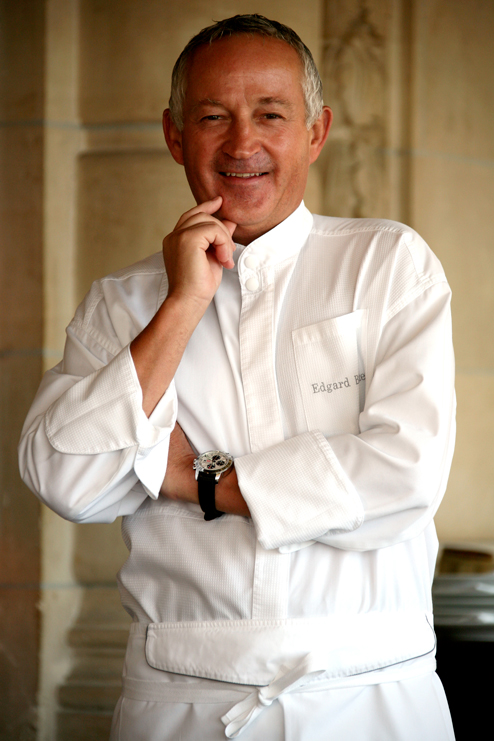 Edgard Bovier
Originally from Valais – the largest wine-producing canton in Switzerland, also known as "land of flavours" – Edgard Bovier began his haute cuisine adventure at Lausanne Palace back in 2004. He immediately owned the kitchens and indeed the rest of the hotel, thanks to his charisma, good taste and sense of hospitality. The Lausanne Palace plates filled with Mediterranean-inspired food made with olive oil, fresh vegetables and delicious fish. "I couldn't have known at the time that this cuisine would be such a success. First and foremost, I cooked in this style, because I love it myself." »
Passionate about Mediterranean cuisine, he has, at the start of his career, greatly benefited from the advice and training of Dominique le Stanc, the great French Chef, who was then Chef de cuisine of the Hôtel Negresco in Nice.
In the late 70s, while working in Grece, Edgard is seduced by the Mediterranean flavours. Well before Mediterranean cuisine became successful and famous, he developed a real passion for this cuisine based on olive oil and rich in fresh vegetables as well as products from the sea. During his internships with the prestigious French Chef Dominique le Stanc, the young Edgard gained knowledge and benefited from his advice in order to improve his skills.
Urs Heller, editor of the Swiss Gault Millau, and at the time described Bovier's "art" with these words: "Prestigious, with the perfectly appropriate and adapted Ligurian Olive Oil embellishing each dish - prime seafood, carefully selected vegetables, and his attention to detail."
He finds his inspiration for his new creations in the seasonal products that he discovers on the markets, in the fields and the vegetable gardens of the South, during his trips to Liguria, to the Italian Riviera, to Nice and to any place bathed in the smells and flavors of Provence. "I love products which have an intense taste and regard it as my most important task to ensure each product keeps its true taste when I cook it. The role of the craftsman-cook is to improve the delicious and beautiful things of Nature."