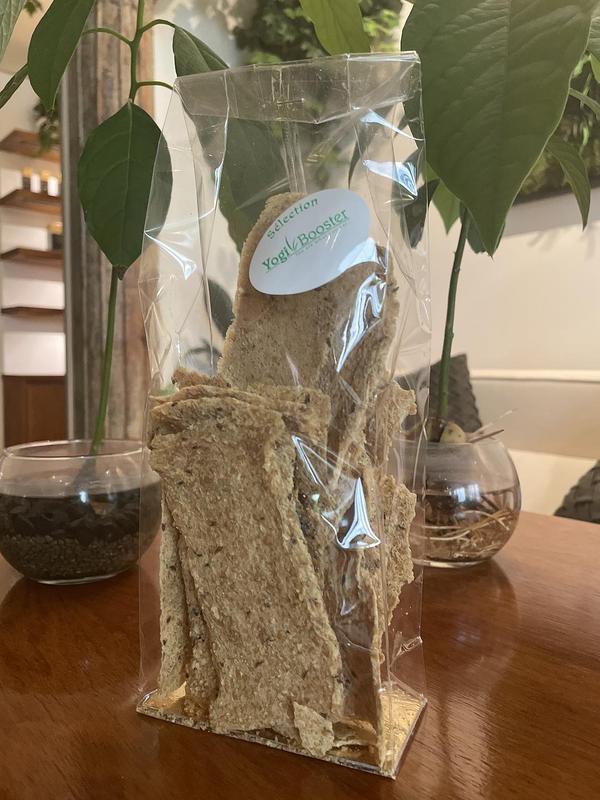 INGREDIENTS :
125 g spring water
125 g carrot fibre (collected when you juiced carrots in the juicer)
50 g golden flax seeds
200 g brown flaxseed
62.5g unmixed brewer's yeast
8g cumin roasted in a pan
STEPS :
Put the golden flax seeds, brown flax seeds and cumin in a grinder and mix.
Heat the water so that it is hot, but not boiling.
Stir in the water, seed mixture and carrot fibre. Mix well to avoid lumps. Leave to stand for one hour.
Spread about 450g of the mixture to the desired thickness on a baking sheet. In our example we have 3mm thick.
Make lines in the dough to mark out the individual crackers.
Repeat steps 4 and 5 until you have no more mixture.
Put the sheets in a dehydrator for 12 hours with the thermostat set at 60o.
Taste the crackers.
This preparation can be kept in the fridge for about 3 days. You can eat the crackers as avocado toast or with hummus.
In this recipe, nothing is lost, everything is transformed, since our chefs use the carrot fibres left over from the preparation of juice in the centrifuge. A perfect solution to limit our food waste while creating a delicious snack! Chef's secret: to take it a step further, carrot tops, with their herbaceous flavour, can easily be incorporated into a soup.
Don't have time to get into the kitchen?
Come and taste the carrot in all its forms in the form of juice, crackers or soup prepared by our chefs directly in our Yogi Booster restaurant at Lausanne Palace.
A moment as zen as it is gourmet!