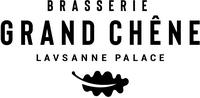 Information
The restaurant Brasserie Grand-Chêne is open!
More information about our health charter

Opening hours:
Monday to Friday : from 12pm to 2pm (last order) and from 6.30pm to 10pm (last order).
Saturday to Sunday : from 12pm until 10pm (last order).
Atmosphere and style
Designed in a typical Parisian style, Brasserie du Grand Chêne at Lausanne Palace has captured the charm of the past.

Green leather benches, polished parquet flooring, brass ornaments and a solid wooden staircase give it a pleasantly classic and somewhat theatrical atmosphere. Take a comfy seat at one of the tables on the raised platform, or spend some quality time at the bar. You will feel as if you are both spectator and actor in a play set in a gourmet restaurant.
Any moment now, a member of a rock band or a glamorous French actor could enter – as indeed they have done on many occasions in the past. Read the brass plaques engraved with famous names adorning the walls to see who was here before you.

Traditional recipes and contented gourmets
In keeping with the atmosphere of the place, the menu at Brasserie du Grand Chêne takes gourmets to their favourite country: France, the country of traditionally excellent taste and timeless flavours.
The most popular dishes include beef tartare and steak, onion soup, fish soup, escargots de Bourgogne and fish (catch of the day).
La Table d'Hôtes
You can discover a unique behind the scenes experience in the laidback atmosphere at Le Table d'Hôtes, right in front of the "pass", in front of the kitchen brigade whilst they work.
The table d'hôte can seat up to 16 people.
"Table d'Hôtes" menu
A 4-course menu, served with a glass of Chasselas as an aperitif, a glass of Swiss wine for every course as well as coffee and petits fours.
CHF 150.- per person.
From 4 people, upon availability and only on advance reservation only.